Starting with the ML 55 AMG (and through a host of subsequent name changes), there's always been at least one high-performance derivative in Mercedes-Benz's large SUV stable. Now into its fourth generation, the latest Mercedes-AMG GLE range isn't quite complete just yet, but there is something special hiding in the price lists nonetheless. We highlight some of this potent SUV's most notable features.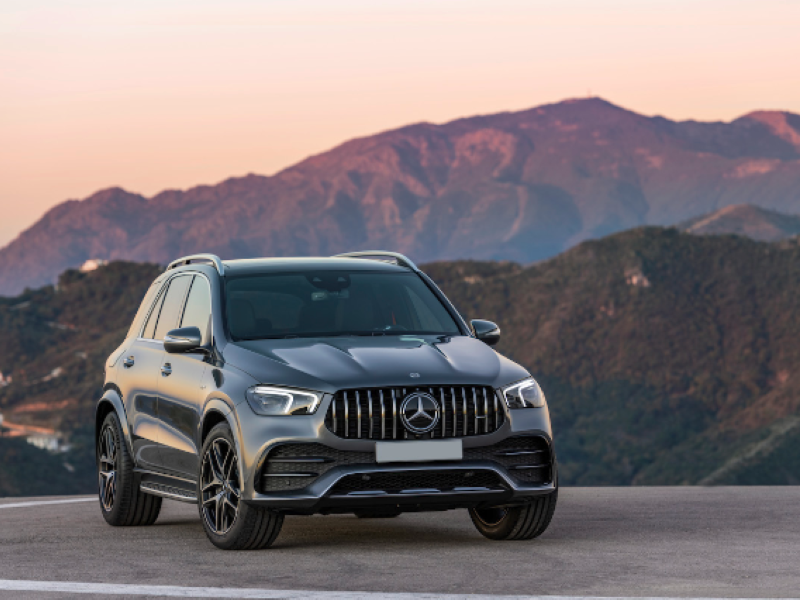 Launched in South Africa early in 2019, the mainstream Mercedes-Benz GLE range is available with three engine choices (two diesels and a petrol), with a variety of trim levels. The first AMG-fettled version arrived about a year later, and there's more still to come – the only currently-listed AMG GLE carries a "53" badge (which denotes a 6-cylinder petrol engine), with a pricetag of R 1 784 280.
This leaves room for an even hotter "63"-badged V8 derivative to slot in at the very top. Mercedes-Benz's local website does show an AMG 63 S already, with a guideline price of R 2 801 400 and 450 kW and 800 Nm on tap from its 4.0-litre engine, but its official arrival hasn't been announced yet. There are still plenty of cool features in the second-tier AMG GLE 53, though, such as…
1. Widescreen cockpit
Many cars have digital instrument clusters these days, and even little econoboxes have colour infotainment displays, but Mercedes-Benz (and Mercedes-AMG) takes this to the next level with their latest display unit. Facing the driver is what appears to be a solid slab of screens, because that's exactly what it is: the instrument panel and centre display both measure 12.3-inches (31.2 cm) in size, and are mounted on the dashboard shelf behind a single glass cover with black edges.
Its appearance is spectacular and its operation is versatile: the driver can select one of four pre-configured display styles (which changes the gauge display as well as the appearance of the supporting centre display), and the contents of both screens can be individually positioned to suit different moods or driving styles. It naturally also comes pre-loaded with the latest AI-enabled MBUX interface, which responds to the "Hey Mercedes!" voice command to simplify operation.
2. Even the six-shooter packs a punch
Don't feel too disheartened about the current absence of a GLE 63 derivative from the model range, because the GLE 53 is already a machine of note. Featuring 48V electric motor assistance (adding up to 16 kW and 250 Nm on demand, and giving it mild hybrid status), it's also equipped with an electric supercharger to get the engine on the boil even before the main turbo comes into play. The total system output amounts to 320 kW and 520 Nm, good for a 0 – 100 km/h sprint in 5.3 seconds.
It's time for some perspective here: the first ML 55 AMG (as it was known back then) boasted all of 255 kW and 510 Nm from its 5.4-litre V8 lump, barely made it into the 6-second bracket on the benchmark sprint time, and had extremely profligate drinking habits. If ever there was a clear demonstration of technology making everything better, this is it.
3. AMG Dynamics Plus Package
This is an optional extra which adds R 88 800 to the pricetag. That's money well-spent, though, because it upgrades the running gear to include AMG Active Ride Control and high-performance composite brakes, complete with sexy red brake calipers. The package includes a pretty, grippy steering wheel with a suede-like rim and AMG-specific steering wheel buttons.
Active ride control is also available as a stand-alone option for R 50 300, and combines adaptive dampers, road-sensing technology and air suspension to provide a very versatile suspension system. Its box of tricks include a "Curve mode", which literally leans the car's body into the corner (just like a bike would do), to reduce lateral forces on the occupants and create a greater impression of stability.
4. Head-up display
Many high-end cars feature head-up displays (HUDs) these days, but the latest Mercedes interpretation of this idea is rather more advanced than most. It's an option that will add R 18 900 to the GLE's pricetag, but that's money well spent for the added functionality (and small change in comparison to the Mercedes-AMG GLE 53's already-staunch pricetag).
The feature that makes the Mercedes-AMG system so special is the configurability of the information on display in the HUD. The display area is divided into three segments, each with its own array of available information. This way, it could (as an example) be set up to project navigation instructions on the left, speed- and cruise control data in the middle, and entertainment info on the right. Right in your line of sight and customisable in a myriad of ways, this is what intelligent application of technology looks like!